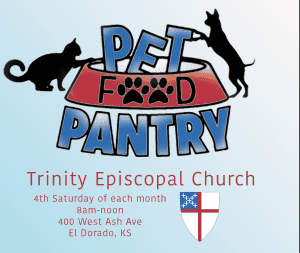 Priscilla's Pet Pantry at Trinity Episcopal Church
Priscilla's Pet Pantry for cats and dogs in need is sponsored by Trinity Episcopal Church. Every 4th Saturday of each month from 8:00 a.m. – noon people who cannot afford food for their pets may pick up 6 lbs of dog food and 3 lbs of cat food.
A volunteer-based mission of Trinity Episcopal, Priscilla's Pet Food Pantry distributes pet food and related pet items to families in need in order to keep pets and their families together in times of hardship. We serve low-income residents, veterans, senior citizens, disabled citizens, and more in Butler County.
The Pet Pantry was founded to help those in need and to honor our former deacon, Jane Ware. Priscilla's is named after her cat.
You can donate dog and cat food and care items which can be left at the church during office hours (Tuesday thru Friday 9am-1pm) or on Sundays 8am-12pm. Cash donations are also welcome.
Trinity Episcopal Church – Parish Hall
400 W. Ash
El Dorado, KS
Every 4th Saturday of each month
8:00 a.m. – noon