Dog Friendly Activities for Spring You & Your Pets Will Love
Ah, spring is finally here and it's what we've all been waiting for! Enjoy the green grass and sunny sky with your furry companion, right here in Kansas City with these fun dog friendly activities.
This list is perfect for the dog owner who want to enjoy an hour (or two) with their pooch to play fetch, go for a walk or just enjoy the outdoors.
So, what are you waiting for? There's so many things to do with pets in Kansas City! Check out our list and head outside and enjoy the weather with man's best friend!
Oh, and don't forget the poo-poo bags…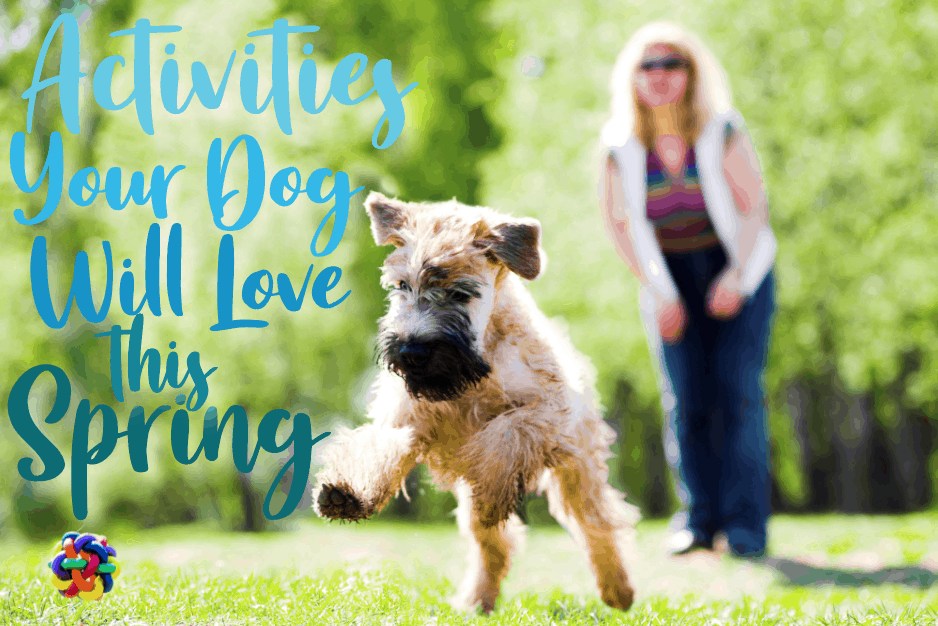 We all need a change of scenery, and your dog is no different. Heading to a new trail or park is new and exciting for your dog. You both get to explore and it can be turned into many fun outdoor activities…explore every dog park in town!
You and Fido can both enjoy some exercise and explore a new environment together.
We have a massive list of all the best trails and parks in Kansas City. Pets are almost always welcome, as long as your clean up after them.
Bring your dog's favorite ball or toy to play fetch at an off-leash dog park. There's nothing better than experiencing the freedom to roam in an open plain!
Spend some time running, fetching and making new friends at local dog parks in Kansas and Missouri.
Check out our complete list of dog parks all over the KC metro.
The WWI Memorial lawn is the perfect place to spend your afternoon with your dog. There is tons of open space to run around!
Plus, it is a fantastic backdrop for a day out with your pet…
Bark in the Park is happening 3 nights in 2020. You can find the specific dates, times and details on The KC Royals website. (April 14th, May 18th & September 23rd)
Registering before the game is required, but it's super easy! At the game you will receive a KC Royals dogie bag dispenser that lights up. Plus, part of the ticket fee will be donated to Wayside Waifs…
There are tons of camping spots near Kansas City – most allowing pets to camp with you! …who doesn't want to enjoy the great outdoors during the nice Spring weather?
Explore the places to camp in KC to find a fun spot to enjoy Spring with your furry friends.
If you like fishing or exploring the outdoors, check out these fishing spots around Kansas City! Many of them allow for dogs to swim in the lakes – if your pets love to play in the water.
You can find details about each fishing lake and other amenities at the location.
Create New Toys when Spring Cleaning
Clearing out your old & unused items is pretty routine in Spring. Once you've found old t-shirts, rags or dish towels, tie them together to make new dog toys…for free!
Yes, you can shop with your dog! For those of us who dread the thought of shopping, now your can enjoy it with the company of your furry friend.
Believe it or not, Kansas City is full of pet-friendly shopping destinations. We even made an entire list of more than 80 places where your pet is welcome to shop with you.
Don't wait to bring your dog on your shopping adventures this spring and bask in the glory of exploring the KC metro with stores that allow you to shop with your dog.
Now that winter is gone and spring is here, restaurants open their patios and outdoor seating and welcome your pets to enjoy a meal with you outside.
We all love enjoying a meal out and now we get to do so with our furry companions!
Check out this list of over 75 dog friendly restaurants in Kansas City. There are quite a few that allow your pets to dine on the patio with you.
Yes, you can bring your pets with you on your next vacation! Go Pet Friendly provides everything you'll need to bring Fido with you.
This site gives resources from pet-friendly hotels and campgrounds, to beaches and off-leash dog parks where your dog can run.
They even list veterinarians and pet supply stores – plus restaurants and wineries where your pooch is welcome to join you.
Travelling with your pet has never been so easy!
We hope you get a chance to take a break and enjoy a sunny day out with your dog. If you have any more great activities for the spring, we would love to hear from you!
Be sure you receive The Scoop from iPetsKC, so you can get everything for Kansas City pets sent right to you!
From our furry family to yours, iPetsKC